Home removals Brussels, Ghent, Antwerp,...
Moving without stress with Servaes Services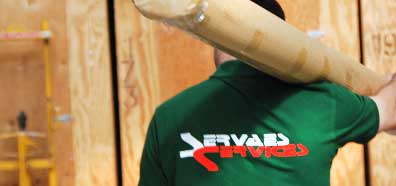 It is said that moving is one of the most stressful times in a person's lifetime. With our experience in moving and our specialized moving services, we think that this is not always necessarily the case. Servaes Services is not like most moving companies. We offer a complete door-to-door relocation service and move your entire contents, this for both national-and international relocations. We can then take care of every aspect of your move, such as packing, cleaning, assembly and disassembly, etc.
Again very satisfied
Recently, we asked you for a 2nd time to get our belongings moved, and once again we were very pleased with the result. We would happily move with you again.
J. Nelemans
Perfect service
As part of the consolidation buildings we moved more than 200 staff. As always, we could count on your perfect services, and it was partly by your professional approach and flexibility we made this project a success.
T. Capelle
What can you count on?
Total Package
Local, national and international removals
Storage of your goods in our 4000 m³ storage for furniture storage
Assembly and disassembly of office furniture
Packing and unpacking files and archives
Additional services: cleaning up after moving offices, assembly and disassembly of doors, packing service, cleaning service…
We guide and plan your move with perfection
We can come to you to make a potential cost estimate
You receive our free quote
We guarantee a proper relocation price
All relocation services under one roof
Store your goods in our warehouse
Assembly and dismantling your furniture in place of departure and arrival
Expertly packing and unpacking of your household (kitchen utensils, books, crockery, glassware, clothing, etc
Clean up your house after moving, cleaning service, assembly and disassembly of doors, windows, etc
Advanced fleet (trucks and moving vans)
Skilled team of packers, mechanics, team managers, etc. within Europe and worldwide
Dismantling and assembling furniture (also costly brand or designer furniture)
Loading and unloading the moving van
Relocation of special items such as waterbed, piano, safe, etc
Caring for waste and mounting of electrical devices (e.g. cooker, TV, etc.)
Collecting and hanging curtains and chandeliers
We arrange parking with the local municipal or police
Installation of all your furniture on your command
Cleaning the house after the move
Moving in confidence
Servaes Services is ISO 9001:2000 certified
We can count on a customer satisfaction rate of over 90%